Safe Places*
If you are out in the community and you are:
bullied.
picked on.
hit.
made to feel unsafe or scared.
lost.
you lose your phone or money.
Go to a place where you see the Safe Place sign.
Places that display the Safe Place sign have staff who can support you to get help.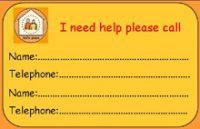 Make sure you carry your Safe Place card to help them to help you.
If you or anyone you know would benefit from joining the Safe Place Scheme, you can get your pack from:
In Kingston
Sessions House
17 Ewell Road
Surbiton
KT6 6AF
To find out more you can call the Parliament Office on 020 8547 6540.
In Richmond
To find out more about the scheme and how to get a card in Richmond, visit the Metropolitan Police website
Information for parents and carers
*Safe Places is a scheme to help vulnerable people deal with difficult situations when they are out and about in the community. This could be anything from being lost to losing a mobile phone or being harassed or bullied.
The idea is simple - shops, services or businesses who agree to be a Safe Place put a logo sticker in their window so it can be easily seen. People who have joined the Safe Places Scheme carry an 'I need help' card with the contact details of someone they trust. Staff in the Safe Place will be able to help by making a telephone call to the person on the card, calling the police or giving advice.